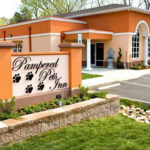 Pampered Pets Inn is a luxury boarding and interactive daycare alternative for your dog or cat.
Our Tuscan inspired, 6,000 square foot facility is located on 2.25 beautiful acres. Your dogs get to romp and play for several hours every single day of the week.
Now when you have to be away, you can relax knowing that your pet is happy and well cared for. We also offer a large indoor play area with heated floors for those rainy days as well as on-site grooming services for the ultimate in a pampered stay! All dogs enjoy the fully supervised interactive sessions whether it is just for one day of play or an overnight visit. We offer many toys for your dog's entertainment and that much needed exercise for those overweight dogs.
Many studies have shown that dogs that are happily worn out from a fun-filled day of interactive daycare eat better, sleep better and are more content. Just watch your dog run into our facility once they know what it's all about. You'll never have to drag them kicking and barking to a less than pleasant overnight stay again!
To ensure the best fit for all animals, we require a complementary 30 minute initial interview. We will interact with your dog one on one and work with our other 'greeter' dogs to ensure your pet is placed with the right play group. Size is not the only factor, although that is generally the case, but sometimes an older or disabled large dog may feel overwhelmed with the other large dogs. In that case we will happily add them to our small play groups. (Please try to schedule your interview at least 2 – 3 days before boarding or daycare if possible)
Reservations are required for boarding animals (for existing & new customers). Reservations are also required for new daycare customers.
Our #1 goal is the safety of your animals, but a close #2 is that they are happy and enjoying their visit.