Please note our phone number is different from the Pampered Pets Inn main number: 704-799-2377
At the Lake Grooming Salon (Located inside Pampered Pets Inn), we are driven to offer your pet the best grooming facility in the area! Our professional pet stylists and bathers are committed to providing you and your pet with outstanding service by using top-quality products and knowing the latest styles. Our facility has the latest equipment, and the safety of your pet is our number one concern.
Don't forget your feline! All of our services are available for cats as our professional pet stylists are highly trained in styling and handling of cats and dogs.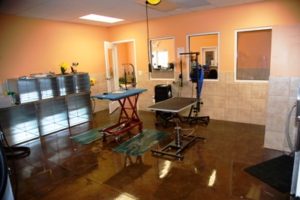 All grooming takes between three and four hours depending on breed.
A handling fee of $15.50 will be applied to any service if your pet requires a second person for the entire groom because of a medical condition, age or aggression.
Difficult and aggressive cats and dogs are our specialty! Please contact us to set up an appointment… then relax!
When you leave town there are many, many things to get done before you can leave. Let us help you remove one of those headaches. With our Pet Limo service, we will come pick up your pet and bring them to Pampered Pets Inn where they will have a luxurious stay while you and your family enjoy your vacation. No more standing in lines! We can even bring your pet back to your home when you return.
Visit our Pet Taxi page for more information.
Services provided by At The Lake Grooming Salon:
Exit Bath
Exit Bath Plus – Includes nails & Drying
Full Groom – Bath, nails, anal gland, teeth, remove hair in pads, touch up feet
Optional Services – De-shedding or Shaving
For our feline clients we offer a Full Groom or just a bath, brushout and nails.
Please call Karen at At The Lake Grooming, inside Pampered Pets Inn at 704-799-2377 for more information or set up an appointment.