Comfortable Cat Friendly Accommodations
Our feline guests enjoy comfortable, cat-friendly accommodations (separate from the dogs).  Our loving and attentive staff is specifically trained to care for the unique needs of our feline guests and we're here to ensure their health and happiness.
What's included in our Overnight Care for Cats?
Cat boarding at Pampered Pets Inn is not your typical kennel experience. Our goal is to provide at least the same level of care that your cat experiences at home.
While your cat is with us, s/he will enjoy a private, temperature-controlled indoor room, soft bedding, and attention from our devoted staff.
Your cat will be treated like family and enjoy the comforts of home in his/her own serene, cozy room--away from our dog guests.
Cats can be very particular about where they sleep, eat and relieve themselves. Our condos were specifically designed to provide a litter box in a separate area for privacy. Other rooms or levels in the condo are for eating, sleeping, playing or just watching over the rest of their world.
We serve your cat's preferred food; we just ask that you bag and label each serving separately.
72 gallon saltwater fish tank for viewing
When they come out to play, the full room is theirs and we leave their door open just in case they want to jump back inside after supervising the fish in the fish tank, watching visitors through the window and exploring the room.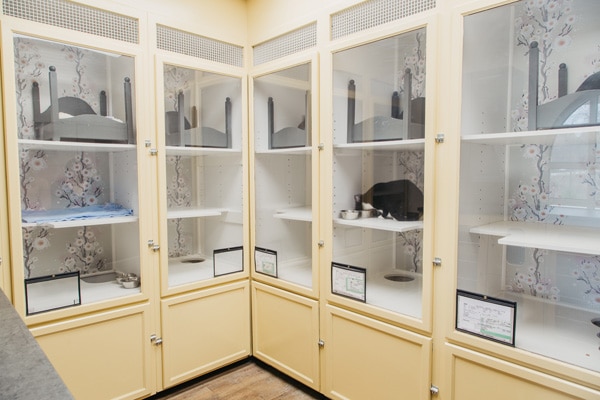 First Free Night - New Lodging Clients!
Reservation required. Discount subject to availability and cannot be combined with any other offers. Lodging discount applies to first time lodging customers only. Please call for availability and mention this offer Please contact us first to ensure availability.