Why Dog Owners Choose Pampered Pets Inn for Dog Daycare
To ensure maximum safety, dogs are grouped together according to temperament and size. So, if you're working a long day, want your dog to burn off some extra energy, or want to work on your dog's socialization skills, come to Pampered Pets Inn!
We recommend that your dog comes at least once a week to get used to the environment and to be appropriately socialized to his/her assigned group.
Play for all dogs in a secure and clean environment
Comprehensive evaluation process to assess new dogs and determine their best play group
Separate large and small dog groups
We provide appropriate rest periods which makes happier and safer dogs
Play groups always supervised by trained and certified staff with low dog-to-staff ratio
Natural saltwater pool (wading depth)
Conveniently located in Mooresville, just east of I-77 between exit 33 and 35. Easy access from Davidson, Cornelius, Troutman, Statesville and throughout the Lake Norman area.
Fast check-in and check-out process
Affordable, as low as $25 per day with a 20-day pass (group play)
Private Play available for dogs that aren't suited for group play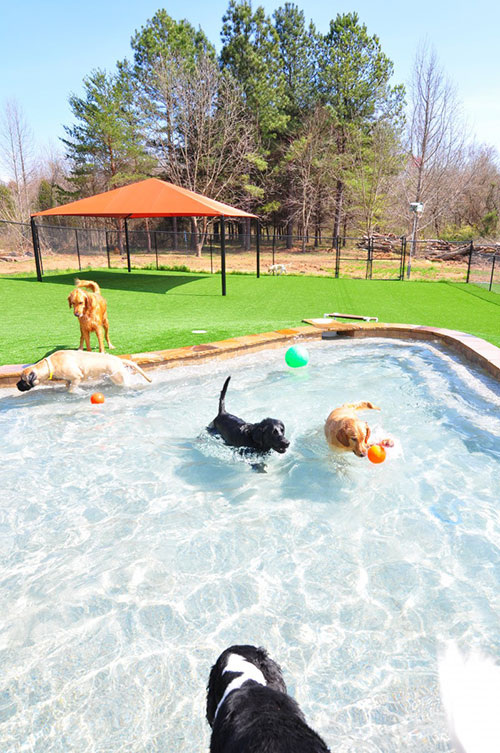 Free Day of Play and Evaluation for New Day Care Clients!
Reservation required. Discount subject to availability and cannot be combined with any other offers. Daycare discount applies to first time daycare customers only. Evaluations typically conducted Tuesdays, Wednesdays and Thursdays. Please call for availability and mention this offer.
General Dog Daycare Requirements
Must be up to date on the following: Bordetella, Distemper, Rabies and fecal (every year).
To participate in group play, dogs over 6 months of age must be spayed or neutered.
Must not be aggressive towards people or dogs or aggressive over toys or food.
We must be able to handle by collar or leash.
Must be on an over-the-counter flea/tick preventative medication.
Orientation Day is a full day of care that introduces your dog to Daycare at Pampered Pets Inn.  After starting the day in a private suite, your dog will receive a one-on-one assessment with one of our trained professionals. This assessment will determine his or her comfort with our staff, evaluate social skills and play style, and only then be introduced to the other day care guests to ensure the group setting is the right fit.