PREMIUM ALL-INCLUSIVE DOG BOARDING ACCOMMODATIONS
Each of our guests enjoys lodging in private suites designed for comfort and relaxation. Our 6,000 square-foot facility is climate-controlled and fully outfitted with the best in care and safety.  Our dedicated and attentive staff carefully monitor the well-being of our guests and provide everything they need to feel right at home. Pricing is based on breed (size).
Private.  Climate-controlled indoor private accommodations with heated floors
Luxurious.  Spacious, luxurious, glass fronted  suites in a variety of sizes to fit every dog, from miniatures to Great Danes
Families.  Accommodations for families of dogs that like to stay together, either sharing a suite or by connecting adjoining suites.  Multi-dog discounts available
Beds.  Elevated, comfy beds for larger dogs
Bedding.  Lambswool fleece bedding
Wellness Checks.  Daily five-point comprehensive wellness checks
Music.  The soothing sounds of music throughout our facility
Clean.  Our housekeeping team visits each pet's suite daily...or more if needed…to keep your pet comfortable and our facility fresh and clean.
Tracking.  We carefully administer and document all feedings in accordance with the owner's instructions.
Activity.  Every day, we provide 2 relief breaks and 4 group play sessions (30 minutes each) in our dog park.
Security & Safety.  Facility-wide video surveillance as well as 24/7 monitored security & safety systems.
We pride ourselves on our facility's cleanliness and invite you to take a tour anytime we're open.  No appointment is necessary…we're always happy to see new pet parents. We're very proud of our place and hope you will be as excited about it as we are.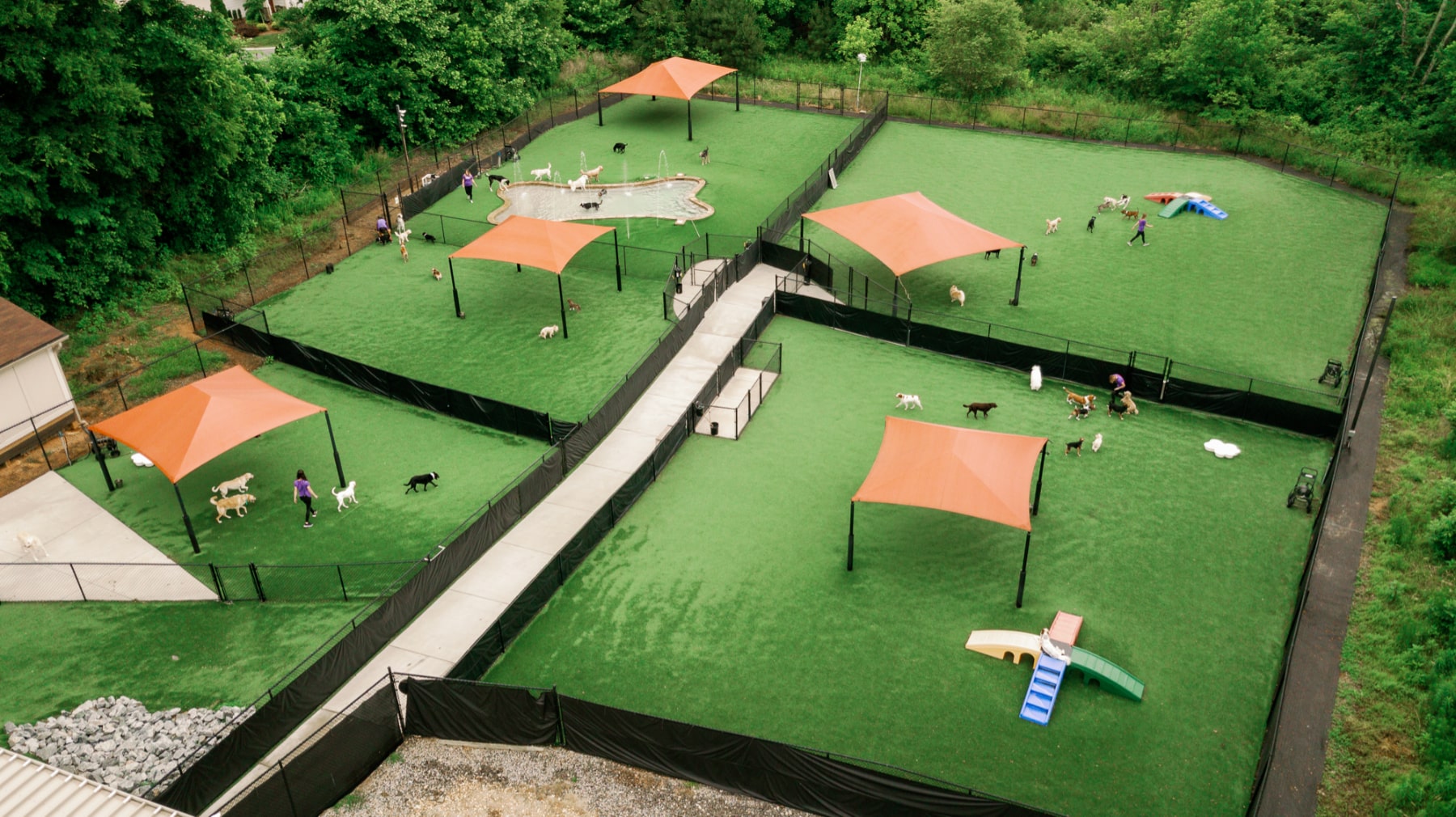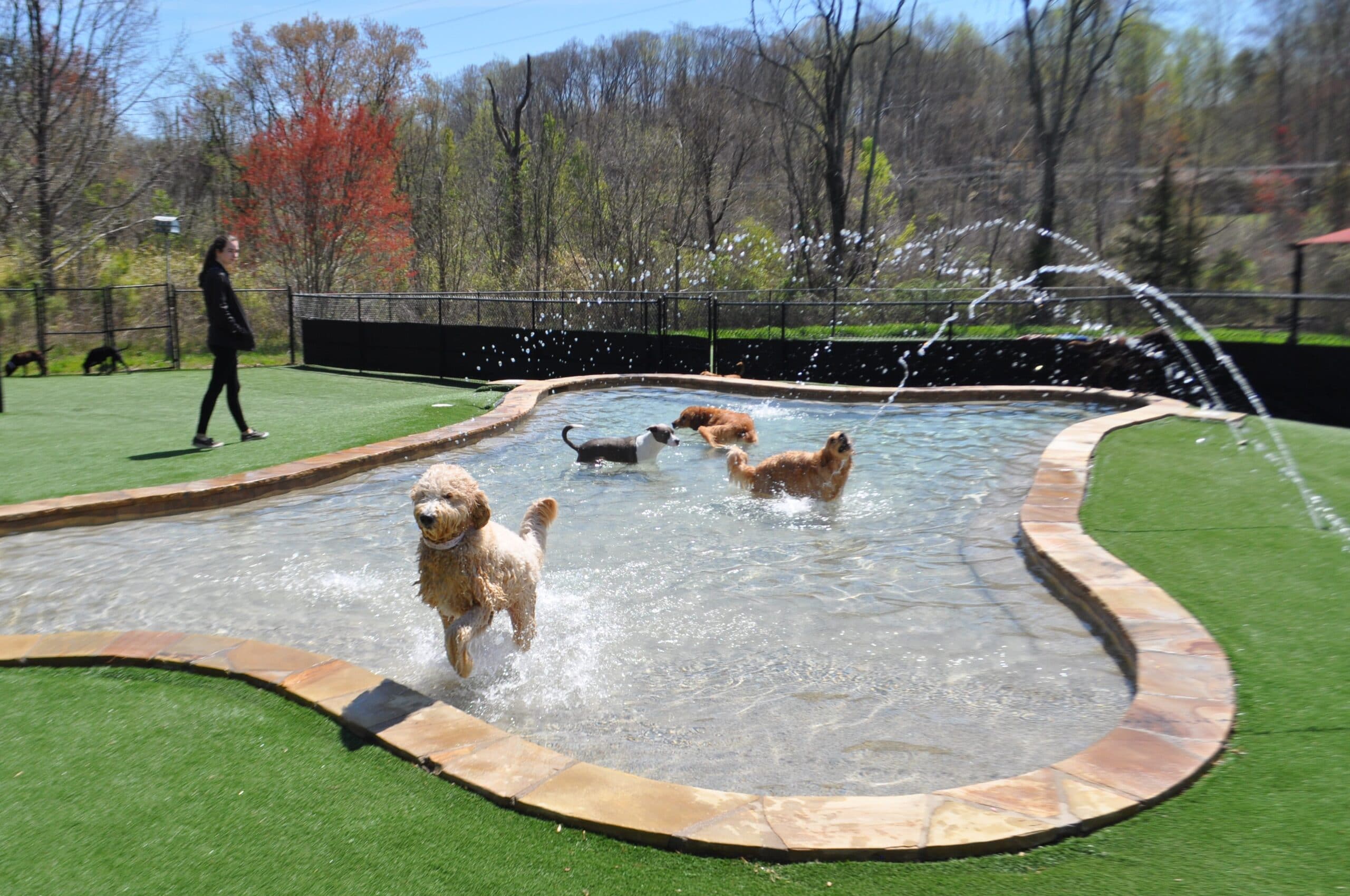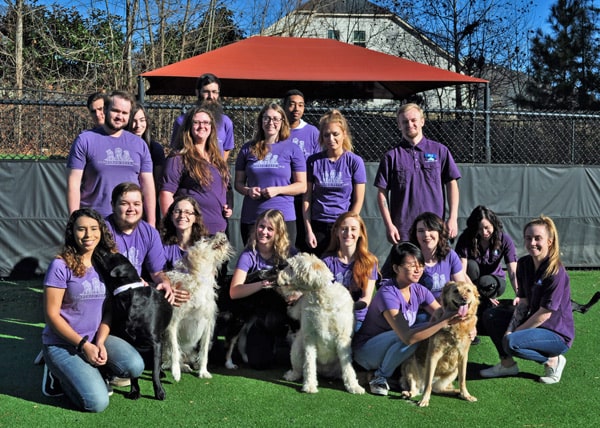 25% Off Premium Bath Upgrade
Lodging reservation required. Discount subject to availability and cannot be combined with any other offers. Offer applies to first time lodging customers only. Please call for availability and mention this offer.
Dogs love to be part of a pack and enjoy being engaged and active. This is especially important when pets are away from home. Our loving staff will ensure a healthy and engaging experience for dogs of all breeds, ages, sizes, and personalities. We include 2 relief breaks and 4 group play sessions of 30 minutes each for our lodging guests.
Full Supervision.  Our play sessions are supervised in small groups with a maximum of 10 dogs per handler.
Qualified Staff.  Our team members receive training and certification in all aspects of pet care, health and safety, including canine group play and canine socialization.
Skilled Assessment.  Each of our guests is assigned to an appropriate play group based on temperament, energy level and age.
Healthy Rest / Play Balance.  Between play sessions, dogs return to their suites to rest up for the next session.
Engaging Dog Park.  With 25,000 square feet across 5 separate play yards, Ultimate K-9 Grass Turf, sun shades and a saltwater pool and water park—we've designed an environment that's perfect for canine play!
Comfort.  We go the extra mile to ensure our guests are comfortable, including providing warm fleece sweaters for smaller dogs so they can enjoy the outdoors even on colder days.
Private Play is available for dogs that aren't suited for group play due to temperament or unaltered at 6 months of age or older, for an additional charge.
In addition, you can choose to pamper your pet further with our add-on activities:
Snack Time.  Offered twice a day, choose between a frozen Brewster's yogurt or house made non-dairy special (flavor changes monthly).  $2.95 / snack
Extra Play.   An extra 15 minute session with a ball or Frisbee for dogs who enjoy additional interactive exercise.  $15 / session
Extra Love.  A 10 minute cuddle session with your pet and one of our handlers. $10 / session
Manners Practice.  For dogs who have completed a training program and need to keep their skills fresh, a 15 minute session of practice drills for skills the dog has already learned.  $15 / session.
Birthday Party.   To celebrate your pet's special day, we'll provide a tasty birthday treat and send you the party pic.  $15
Daily Report Card with Picture.  Daily emailed report of how your pet's stay is going.  $5 / day
Premium or Basic Bath and Other Spa Services.  See our separate Spa Menu for specifics!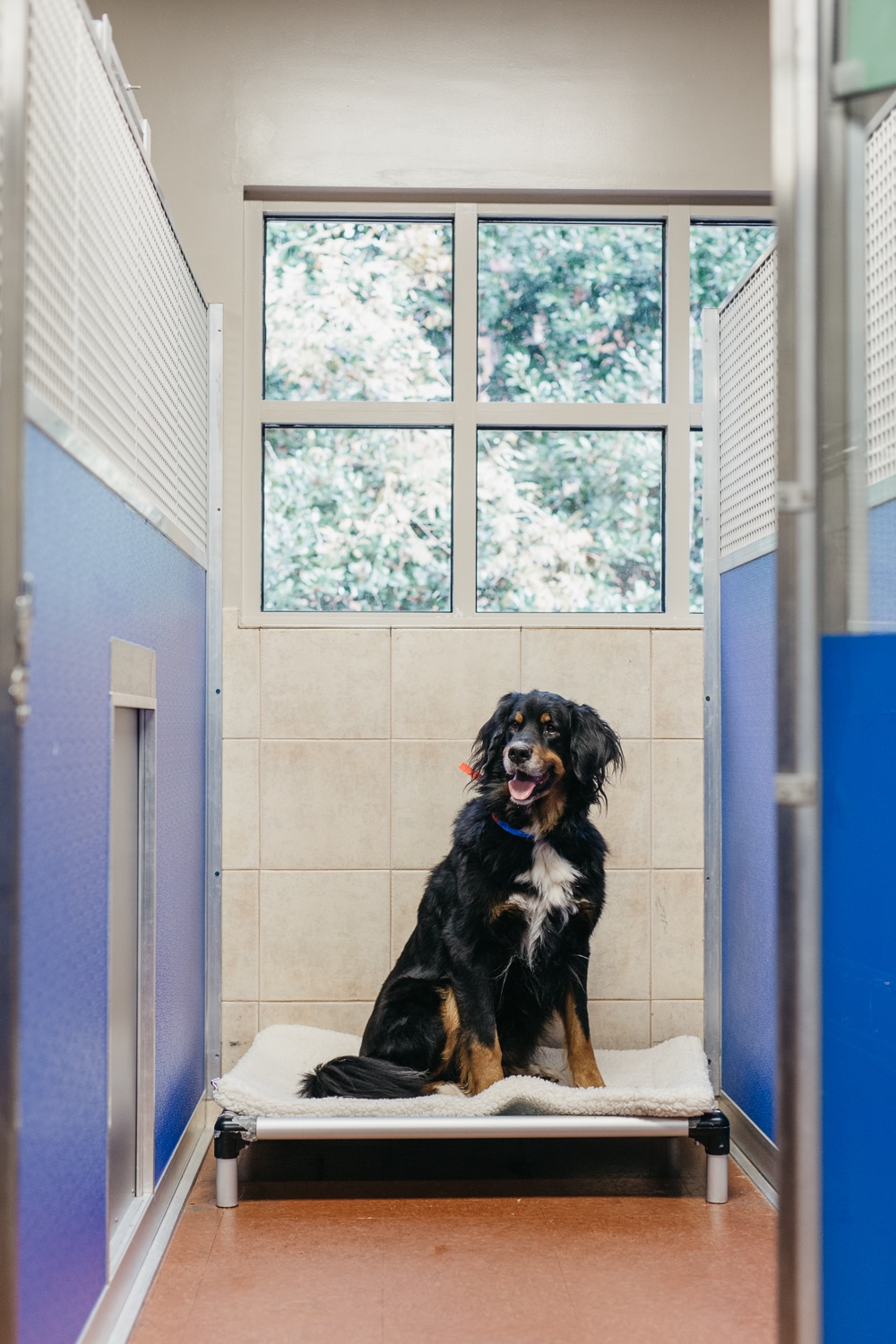 Pampered Pets Inn is an amazing facility. Nothing in the Charlotte and surrounding areas can compare to the quality services and customer service offered. My dogs have so much fun!

General Dog Boarding Requirements
To participate in group play, dogs over 6 months of age must be spayed or neutered.
Must not be aggressive towards people or dogs.
We must be able to handle by collar or leash.