Where Dogs Come to Stay and Play!
If you're heading out of town and need to find a place for your pup to stay, what are your top priorities? Pampering, love, attention and safe fun! That's what Pampered Pets Inn's Dog Boarding service is all about. Our mission is to keep your furry family member happy, healthy, safe, and comfortable while boarding with us.
Our returning guests are our best advertisement. Wagging tails and wiggles are common as they enter our customized, state-of-the-art pet care facility. Our pet boarding specialists enjoy ensuring all pets have a fun, safe and exciting stay. This way you can rest assured they're getting the human care and love they deserve.
Play, play and more play! With furry friends or staff in our dog park, your dog will be engaged and happy. When you're away having fun, your dog should be having fun too!

All dogs enjoy the fully supervised interactive sessions with trained staff, whether it is just for one day of play or an overnight visit. We provide fun ramps, tunnels and toys for your dog's entertainment and that much needed exercise.

Our play sessions are supervised in small groups with a maximum of 10 dogs per handler. Each of our guests is assigned to an appropriate play group based on their temperament, energy level and age.  Between play sessions, dogs return to their suites to rest up for the next session.

Many studies have shown that dogs that are happily worn out from a fun-filled day of interactive play eat better, sleep better and are more content. Just watch your dog run into our facility once s/he knows what it's all about.

Pampered Pets Inn has a resort-quality outdoor Dog Park with state-of-the-art Ultimate K-9 Grass Turf, fun filled playgrounds, sun shades and a saltwater pool and water park--we're simply the best!

Don't forget to add a (premium) or (basic) bathing service to your reservation. Your pooch will go home happy, fluffy and with a seasonal bandana ready for extra hugs and kisses.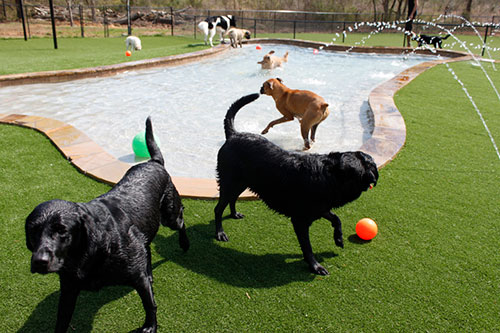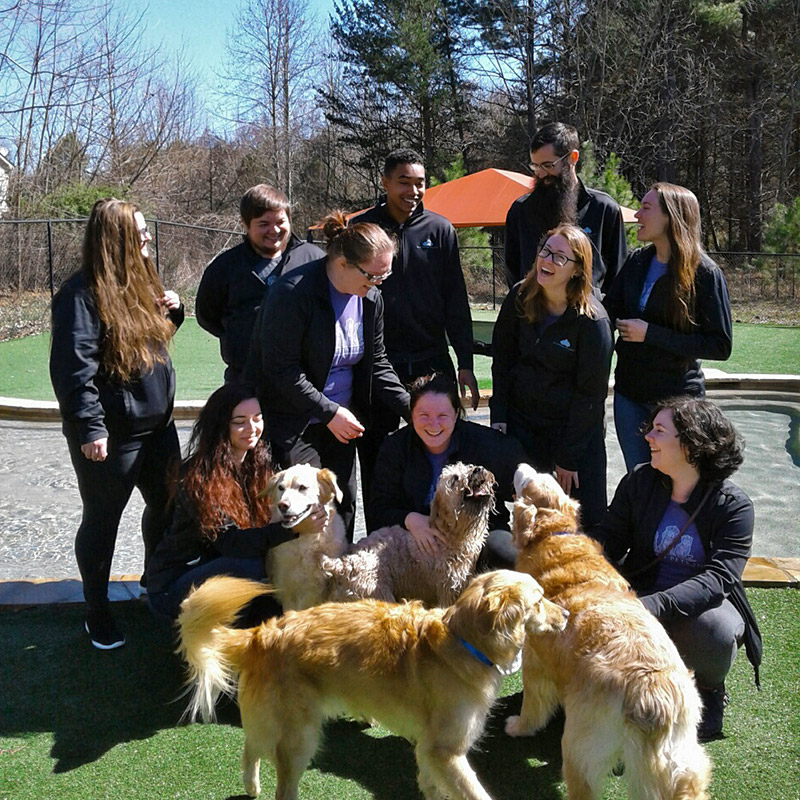 First Free Night - New Lodging Clients!
Reservation required. Discount subject to availability and cannot be combined with any other offers. Lodging discount applies to first time lodging customers only. Please call for availability and mention this offer Please contact us first to ensure availability.
Climate-controlled indoor private accommodations with heated floors.
Spacious Suites - our suites give your pet a roomy and comfortable space, designed to help keep your dog happy during his or her stay at Pampered Pets Inn. We provide the best the industry has to offer in durability, safety and cleanliness and have them in a variety of sizes to fit every dog, from miniatures to Great Danes. We can accommodate families of dogs that like to stay together, either sharing a suite or by connecting adjoining suites.
Every suite, regardless of size, comes with luxurious, lambswool fleece bedding. Our bedding is plush (but durable!), hypoallergenic, moisture-wicking and our pet guests love them. At our Inn, there's no need to tote your pet's bed back and forth.
Throughout our facility, we play soothing music—research has shown that this has a positive effect on dogs.
We pride ourselves on our facility's cleanliness and invite you to take a tour anytime we're open.  No appointment is necessary…we're always happy to see new pet parents. We're very proud of our place and hope you will be as excited about it as we are.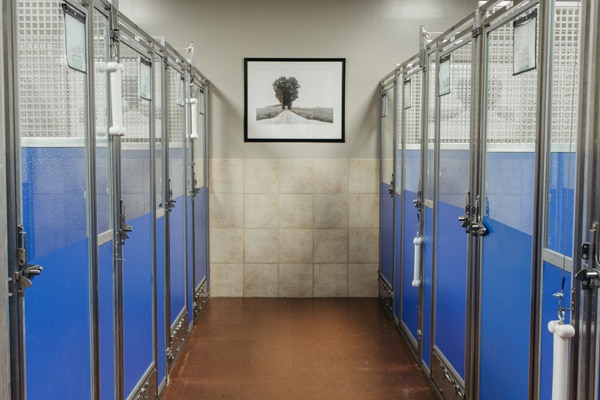 Care by a Highly Trained, Passionate Team
Our staff members receive training and certification in all aspects of pet care, health and safety. We utilize the industry-leading curriculum of the Outstanding Pet Care Learning Center.
Our housekeeping team visits each pet's suite daily...or more if needed…to keep your pet comfortable and our facility sparkling.
Play sessions are supervised by seasoned handlers with additional training and experience in canine group play and canine socialization.
We careful administer and document all feedings and any medications in accordance with the owner's instructions.
General Dog Boarding Requirements
Must be up to date on the following: Bordetella, Distemper, Rabies and fecal (every year).
To participate in group play, dogs over 6 months of age must be spayed or neutered.
Must not be aggressive towards people or dogs or aggressive over toys or food.
We must be able to handle by collar or leash.
Must be on an over-the-counter flea/tick preventative medication.