We welcome enthusiastic pet lovers seeking fun and rewarding work
We deliver outstanding care for our pet guests with love, compassion and professionalism, providing a premium experience for pets and their parents in a luxury facility.  Our team members work closely together in a supportive, caring environment to allow them to grow and reach their full potential.  We believe firmly that as our staff succeeds and grows, so does our business.
Our benefits include:
Full and part-time positions
Paid time off (up to 3 weeks with longevity)
Health Insurance with employer contribution
401k Retirement Savings Program with employer contribution
Free snacks
Employee discounts on services (lodging, daycare, spa, retail)
Comprehensive training in pet care and play management
Leadership and career growth opportunities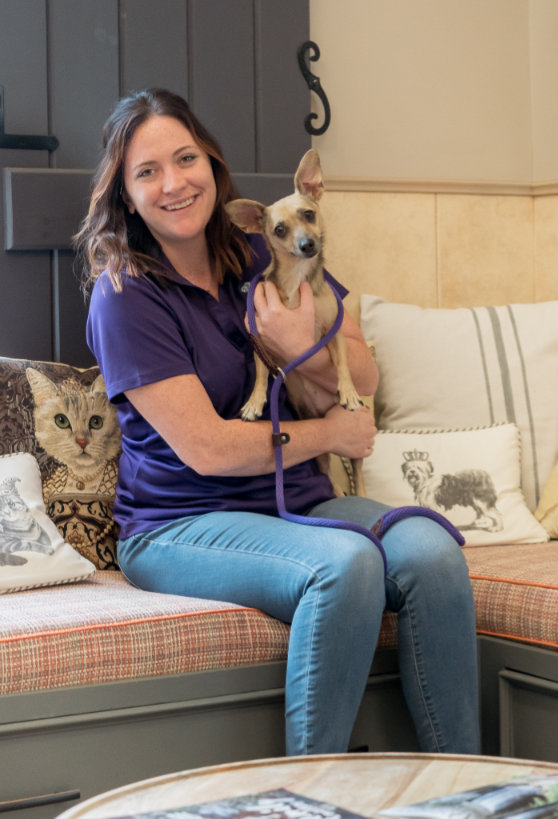 Download Our Employment Application
Return Completed Application to the Inn or via Email
These are just some of the rewarding opportunities we offer to help you build a career in pet care!
The lifeline of the facility. Employees in this role enjoy speaking with customers and informing new and existing clients about the services and amenities that we provide. Pet Concierges help this facility run smoothly by processing records and important documents, scheduling daycare and lodging reservations, organizing guest files, answering customer inquiries, and checking pet guests in and out of the facility.
Inside sales position for detail-oriented individuals who are seeking to gain knowledge of boarding processes from beginning to end. Employees in this position are responsible for new client communications and setting up new accounts. Reservation specialists guide new customers through tours and the services and amenities that we offer.
A vital part of the team responsible for the proper care and maintenance of the facility and the animals. These individuals love working outdoors and want to gain the knowledge and skills needed to properly care for animals in a group play environment. Candidates need to take pride in performing the day-to-day tasks necessary to keep each pet happy, healthy, and excited to come back. The right candidate is dependable, detail oriented, observant, sympathetic, and open to constructive feedback. Some pet handler duties include monitoring play groups, delivering meals, deep cleaning and refreshing suites, washing dishes, doing laundry, and writing report cards for client communications.
Are you good at delegating and leading a group of team members? Are you quick on your feet and good at problem solving? Then this position might be for you! Employees in this position are role models and leaders to the rest of the staff. They are helpful, knowledgeable, organized, and dependable. Some shift lead duties include delegating and assisting in the completion of checklist tasks to ensure that the shift runs smoothly and effectively, administering medications, submitting reports, communicating with clients, and conducting behavioral assessments to place dogs in proper play groups. Candidates with previous leadership or dog handling experience and interested in added responsibilities can be considered for our shift lead role.
If you get satisfaction from seeing a job done from start to finish then this is the position for you! Our premium bathing and spa services have our pet guests looking, smelling, and feeling great. Employees in this department are confident in one-on-one dog handling situations, self-motivated, detail oriented, and enjoy a fast-paced work environment. Some job duties include the care and maintenance of the spa area, bathing pets, delivering services such as fresh breath and de-shedding treatments, performing nail trims, brush-outs, and more.
The tutors of the dog world! Dog trainers help pet guests, and their parents reach their training goals during our lodging or day training programs. With the use of positive reinforcement, and the consistent schedule that provides play times and periods of rest, we set our pet guests up for training success. Dog trainers are also comfortable with client communication through email, over the phone, and during training graduations. Dog training candidates are patient, sympathetic, dependable, self-driven, and role models in the animal care field.