We are often asked about the best approach for cleaning up pet messes, and so thought this would be a relevant topic this month. It's a good idea to have a great stain and odor remover on hand for when those unexpected pet messes happen, particularly when hosting people for the holidays. Here are some tips to make clean up easier and help keep your home healthier for everyone!
Benefits of Enzymes
We recommend enzyme based cleaners because they get to the root of the toughest stains and odors while also being safe for pets, homes and most surfaces.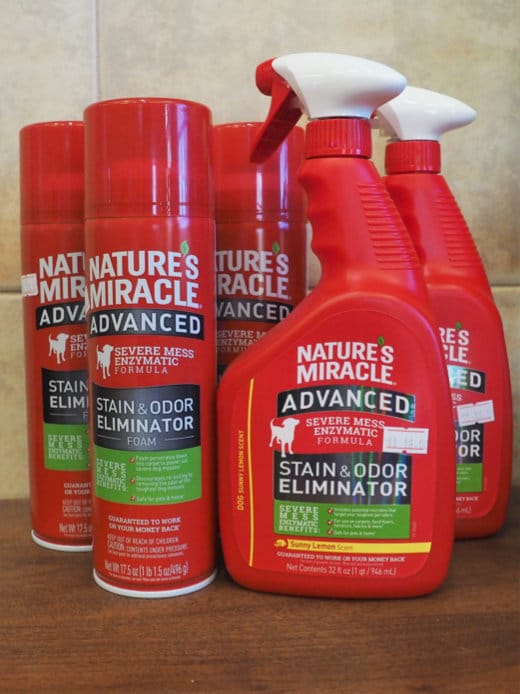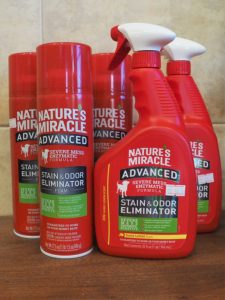 Other cleaning products can disinfect an area, but leave traces of the stain and odors that can encourage a pet to return and soil the same area.
Enzymatic formulas that contains beneficial bacteria break down and eliminate organic materials–urine, feces, vomit, food & drool. The bacteria will continue to work until all of the organic material is eliminated, leaving the area clean, disinfected and without lingering odors. Other household cleaners or bleach aren't as effective and can also be harmful on certain surfaces or to your pets. Brand to try: Nature's Miracle Advanced.
How it works
Remember to always wipe away as much of the stain as you can before applying the product. For stain removal, soak the area and let it saturate for 15 minutes so the cleaner can deeply penetrate the source. Afterward, blot up the stain and allow the spot to dry for 24 hours. Be sure to keep your pet away from the area until it dries. Re-apply as needed. For odor elimination, leave the treated area wet and allow it to air dry. The unpleasant odor will fade as it dries. Then, the beneficial bacteria in the enzymes will continue to do their work on the stain.
For your convenience, we offer Nature's Miracle products in our lobby – pick one up today or ask our concierges about it! We also recommend any brand that says "enzymatic cleaner", such as Simple Solution, because they are the most effective. For additional odor removal options, check out our Pet Odor Eliminator candles and sprays. Tip: we use them at home as well for eliminating cooking smells in the kitchen!