Our 3-week program is designed for parents who want to play a more active role in the process and take their dog home each night. Students will enjoy full days of daycare (Monday – Friday) which include group play and training lessons. We will use multiple transfer sessions with you to teach the skills needed to reinforce lessons at home. $1,800 + Daycare
What you can expect while your dog is staying with us:
School. Two focused one-on-one sessions with your dog and a training specialist each day.
Recess. Four fun group play sessions each day in our expansive outdoor yards and saltwater pool.
Comfort. Rest breaks in a private suite with fresh water & comfy bedding.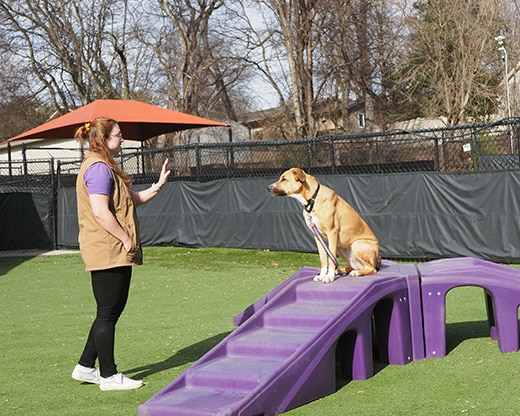 CALL US TO LEARN MORE ABOUT OUR TRAINING OPTIONS AND SET UP A FREE DOG TRAINING EVALUATION!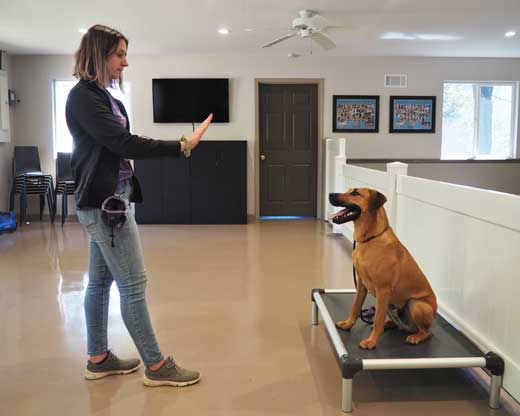 Your pet will learn important and helpful manners such as Sit, Down, controlled walking on a leash, and Come when called. We'll also teach Place, which asks the pet to remain in one designated location (pet bed, platform, etc.) until released.  Specific issues we can address could also include jumping, bolting through open doors, socialization, and even play biting.
The journey isn't over after graduation. We love to see our graduates and our trainers are available for follow up discussions to answer questions and provide support. We also offer Refresher Training, to help maintain and improve upon your dog's skills.

I have been using Pampered Pets Inn for some time for daycare and boarding. I have always been very pleased. My youngest dog, Luna just graduated their training program. We chose to do the daycare/train option. We are thrilled with her progress! It has made a HUGE difference in our daily lives, she no longer jumps on people, knows several commands, and has great leash manners. Very happy customer! Thanks Pampered Pets!"