Your dog will enjoy 15 nights of overnight lodging in a private, comfy suite with daily training sessions. Parents will receive status updates & photos throughout the stay. We end the program with a graduation session with you and your pup where you will learn to maintain and continually improve on your dog's new manners! $1,800 + Lodging
What you can expect while your dog is staying with us:
School. Two focused one-on-one sessions with your dog and a training specialist each day.
Recess. Four fun group play sessions each day in our expansive outdoor yards and saltwater pool.
Comfort. Rest breaks and overnight lodging in a private suite with fresh water & comfy bedding with extra potty breaks every day.
Parent Updates. Follow your dog's progress with status updates and pictures sent to you throughout the stay.
Wellness Checks. In addition to the interactions our staff have with your pet during play, feeding, and training activities to check on your pet's health, our staff members also perform a daily inspection to ensure your pet is not having any issues during their stay.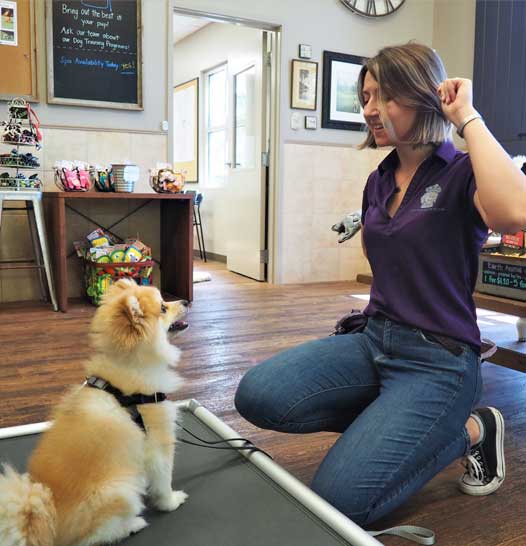 CALL US TO LEARN MORE ABOUT OUR TRAINING OPTIONS AND SET UP A FREE DOG TRAINING EVALUATION!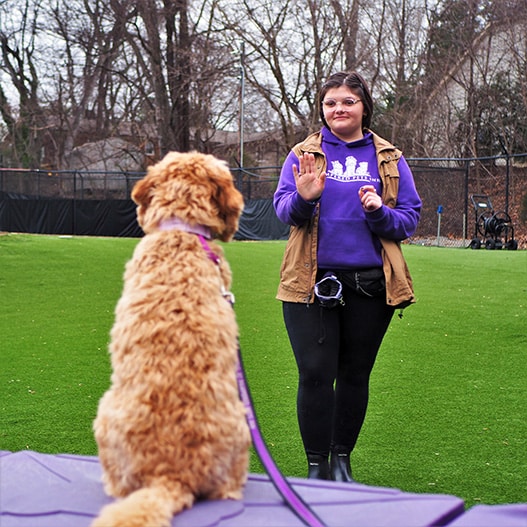 Your pet will learn important and helpful manners such as Sit, Down, controlled walking on a leash, and Come when called. We'll also teach Place, which asks the pet to remain in one designated location (pet bed, platform, etc.) until released.  Specific issues we can address could also include jumping, bolting through open doors, socialization, and even play biting.
The journey isn't over after graduation. We love to see our graduates and our trainers are available for follow up discussions to answer questions and provide support. We also offer Refresher Training, to help maintain and improve upon your dog's skills.